Carol Lim and Humberto Leon of Opening Ceremony are once again pulling out all the stops for their New York Fashion Week show, which is set to debut on Sept. 7.
The two designers, who are also responsible for Kenzo, have a reputation for showing their Opening Ceremony collections at over-the-top locations. For the spring 2014 show—their very first runway show ever—the two debuted their collection with a too-fast-too-furious, streetwear-meets-high-fashion message. To wit, a large crowd—including Baz Luhrmann, Rihanna, and Justin Bieber—sat while a bevy of sports cars zoomed in (above). Models paraded out of the cars, with all the sophistication and stature one could imagine, and made their way around a track-like runway.
For their second show, which presented their fall 2014 collection, Lim and Leon took a slightly safer and much sweeter route when they sent models down a runway backed by an embossed white wall dripping with melted chocolate (below). Talk about eye candy! To make the night that much more memorable, cups of hot chocolate were handed out to guests as they exited—after filling the room with the tempting scent of chocolate, it was the right thing to do.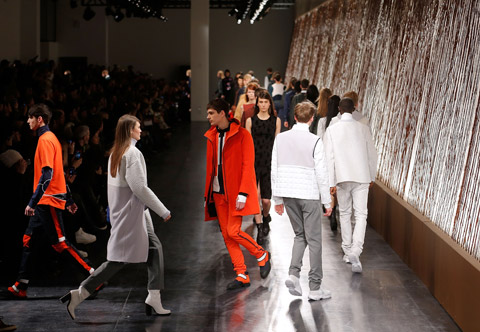 Jemal Countess/Getty Images
This September, Lim and Leon will continue to live up to their show-stopping reputation. The backdrop for the upcoming Opening Ceremony show is more literal than ever: A short one-act play will take the place of a traditional runway show. And the production will be nothing short of amazing as Hollywood-biz professionals are on board to bring the play to life. Director Spike Jones—who has a history with Lim and Leon, not to mention has won an Oscar for best original screenplay for Her earlier this year—and Jonah Hill are co-writing the play that will transform the runway into a stage. We expect to be thrilled by whatever the designers have in store for us, so we can't wait to witness the show and report back here. Because you know what they say, three's a charm.