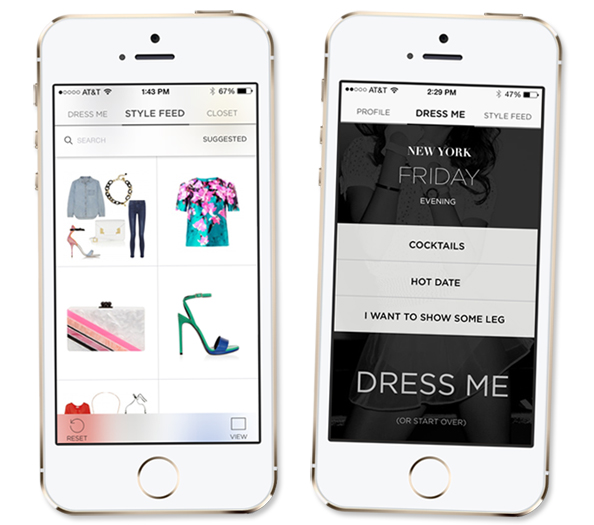 Courtesy Photo (2)
Cher's "Dress Me" computer game from Clueless reached into every girl's consciousness from the minute the film came out and stuck around. It inspired a massive number of imitators, without anyone one really sticking out—that is, until now. With the 1995 movie at the forefront of her mind, Julia Wetherell created a shopping and personal shopper app, MyDrobe, with a twist. The app has a cheeky slot machine–style twist to help you get dressed for a number of  situations. Wetherell explained, "Getting dressed is emotional, so I wanted to create an exciting, new way to shop that was personalized to how you feel, what you're doing, and who you're with."
Here's an example of how it works: First, select the day and time (say, Friday evening—or morning, or afternoon). Then choose what you're doing: Are you going to a music festival? Cocktails? Is it party time? Now pick who'll be with you: maybe your parents, boyfriend, or an ex. Then comes the best part: You tell the app how you're feeling. Are you feeling frisky? Fat? Lazy? Did you forget to shave your legs? Or do you want to shine bright like a diamond?  Yup, those are all actual choices! Then, like magic, the app curates from thousands of options— all purchasable to select perfect items and actual outfits for your situation. You can also add items that you already own into MyDrobe's database, which it can include for you in your "Dress Me" feed as well.
The app also includes another of other, ridiculously useful features. Select your favorite brands from MyDrobe's database (they have more than 1,000 in their database, including A.L.C. and Rag & Bone), and it will create a personalized style feed that suggests pieces you should buy and includes outfits to wear (including pieces similar to ones you already own that you have entered).
You can also take a virtual trip to the fitting room, connect with your "Entourage" (followers) and shop from their closets, get real-time feedback from friends, and share your looks on Facebook and Twitter.
It's currently available on iTunes (the Android version is coming soon!).