Olivia Palermo has risen to fame as a street style pro with an enviably high sartorial IQ. While her talent in wearing great clothes and wearing them well is obvious, the socialite is now moving on to prove her knack for design. Palermo has teamed up with Westward Leaning to design eight just-released styles of sunglasses, all inspired by her travels. "Westward Leaning sunglasses are effortlessly chic and flattering to just about any ensemble, which made this collaboration a dream," Palermo says.
The line features muted gold lenses and the unique styles come in choices of black, tortoiseshell, frosted white, or frosted gray translucent frames. Like all of the label's sunnies, each pair incorporates a unique material in the temples—either blackened redwood, teal sea glass, or gold pieces. The capsule collection couples Westward Leaning's mission to inspire and celebrate human achievement with the fresh approach to fashion that has made Palermo one of our most prominent fashion inspirations.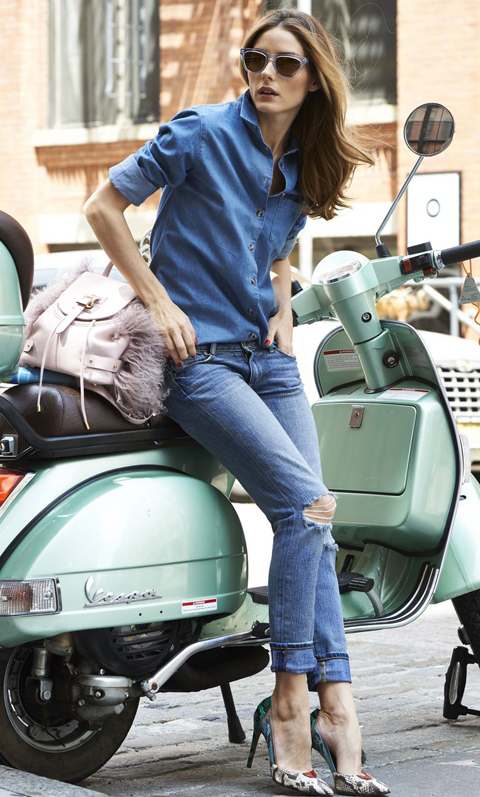 Courtesy
The street style MVP has been wearing the brand's designs since the company's launch in 2011 and according to co-founder and creative director of Westward Leaning, Robert Denning, she has driven more sales for them than other celebrity who has sported the brand, including Justin Bieber, Charlize Theron, and Jessica Alba. "Olivia was one of our brand's earliest and most loyal supporters, and has remained a fan as we've grown our company," Denning says. "Olivia's support has truly been incomparable. I couldn't have asked for a better informal brand ambassador, and it's been so rewarding working with her on this collaboration."
The covetable collection is available now on oliviapalermo.com and westwardleaning.com, with all styles retailing for $210. An added bonus? A portion of the proceeds from the sale of these exclusive styles will be donated to ADCAM's Maasai Project, which works to preserve and support the Maasai tribe culture and for which Palermo serves as a brand ambassador.
Want more Olivia Palermo? See the star's best looks ever in our gallery!