Fragrance is one of the few art forms that can remain totally silent and still make a major impact—you may not be able to see it or hear it, but scent is definitely something you can experience. It has the amazing ability to evoke a memory or emotion without speaking a word, and while many perfumes come and go without being too memorable, there are a few that truly stand the test of time.
Hermès perfumers Jean-Claude Ellena and Christine Nagel have perfected the act of creating a classic, and with a successful fragrance resume under each of their belts, we just had to get their thoughts on why the label's many perfumes have remained so notable and the secret to finding your own signature scent.
"Creating a fragrance is sort of like writing a novel," Ellena tells us. "Sometimes we'll have the name, and we'll decide what to put into the story. When we think about perfume, we don't try to copy anyone, and we don't necessarily think about a woman or a man—we think about the scent itself, and the quality of it." For example, inspiration for the label's latest scent, Jour d'Hermès ($153; hermes.com), came to Ellena after viewing Sandro Botticelli's La Primavera painting, the scenery of which includes more than 500 flowers. "I loved the idea of the scent you'd smell if wind just blew through the painting, so we worked exclusively with flowers, no woods or anything too heavy," he says.
The brand gives the duo free reign when it comes to the creation process. "It's dangerous, but exciting!" Nagel adds. "We prefer the perfume to have a lot of details and personality, so we have a lot of freedom to choose the quality of the ingredients."
Rather than following trends or attempting to speak to a mass market, Nagel and Ellena start with an emotion and stay true to their French roots. "If you're American and you speak to me in perfect French, the thing I will like the most is the accent. Not necessarily the French, but the American accent you have when you're speaking it," Ellena says. "We're talking to America with a French accent when it comes to fragrance, and that's what makes it feel so classical."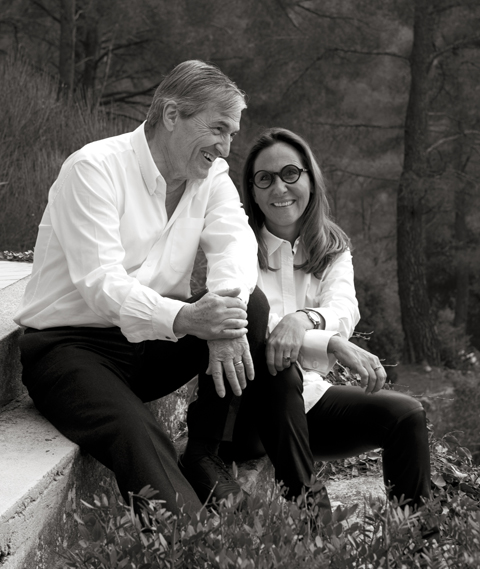 Courtesy
Whether you veer toward the trendy or the traditional, finding your signature scent can be quite the process, but Ellena and Nagel each have their own unique approaches to taking one on a road-test. In Ellena's case, he makes an emotional connection to the perfume.
"When I was young, I was interested in perfume and knew all of the perfumes on the market, but in time, I knew those perfumes and wanted to see myself," he says. "I like to take an intellectual approach. It has to talk to my brain first. The rest comes later, but I like to connect that way to fragrance."
Nagel's method is more physical. "I'll apply it directly to my skin to see how it reacts, and I just love the sensation of perfume on the skin," she tells us. "Sometimes I'll even sleep with it on! If I still have that sensation in the morning, that's great, but if not, that's when I'll cut it."
The duo recommends not rushing into a fragrance purchase, and to use Nagel's method: Apply it directly to your skin, and take time to see how it changes. "It's like choosing a boyfriend—take your time! It could be a perfume that stays with you for years and years," Ellena says. "If you choose too rapidly, you may be disappointed with it after a few days."
And remember, less is more. "It's important to put it on your skin, but use no more than three sprays maximum," Nagel says. "Any more could be overwhelming."