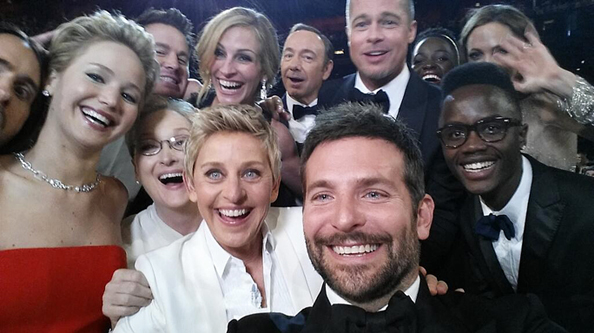 Twitter/@TheEllenShow
Oxford Dictionaries officially added the word "selfie" to its pages last November—after a 17,000 percent increase in use from the previous year—and this week, Merriam-Webster followed suit. And if there was ever an indication of the cultural phenomenon the selfie has become, look no further than the most re-tweeted image of all time: the star-studded shot that Ellen Degeneres snapped (with Bradley Cooper's help) at the Academy Awards. Clearly, the selfie is here to stay and these three innovations will make the process feel a little less #shameless for you.
CamMe
Ever feel like your arms aren't quite long enough for selfies? Meet the app that allows you to take photos from up to 16 feet away without so much as touching your screen. Developed by gesture technology experts based in Israel, CamMe recognizes two simple hand motions. Simply prop your iPhone up, wave with an open palm to get the camera's attention and then make a fist to start the cameras timer. "As opposed to a timer on a regular camera, you take the picture whenever you're ready," says Avital Rabini, the company's marketing director. Released in February 2013, the app has averaged 200,000 downloads per week globally and recently added a fun photo booth-inspired component. Best of all? It's free from the iTunes app store.
HISY
Kick the clutter and keep your dashboard tidy with this virtually weightless, handheld shutter remote that connects directly to your iPhone camera via Bluetooth. "We found that many consumers didn't want to learn how to use yet another app," says the brand's Director, Richard Butiu of the decision to make a device that's app-free. Although HISY isn't rechargeable, the founders claim that it will take up to 100 selfies per day for at least two years without it giving out. For an additional two dollars, your HISY will include a small clear plastic stand so you can prop your phone up just about anywhere, effortlessly (prices start at $24.99; hisypix.com).
FaceSnap
Hostesses often end up taking the photos instead of being in them, so FaceSnap swooped in with the ultimate candid party camera app to remedy the problem. By partnering with the San Francisco-based robotic company, Motrr, the team behind FaceSnap created an app that works in conjunction with a rotating iPhone dock named Galileo (from $99.95; motrr.com). As the iPhone rotates, the app uses image processing technology to search for faces and snap pictures. Although the app has three different modes—selfie, party camera, and room surveillance—the most intriguing component is its ability to scan a room and detect faces. "We utilized both cameras on the phone," says Heiko Straulino, one of the app's developers. "The front camera is used for selfies and the back camera is for parties and room surveillance." The app automatically discards pictures that are blurry and their newest version, which hits the app store next week, has the capacity use smiles as shutter triggers ($0.99; iTunes app store). "It will detect the upward motion of the mouth," says Straulino. "You won't even need a big toothy grin."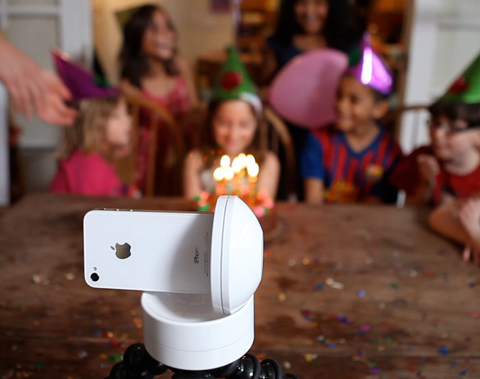 Courtesy