Welcome to Now You Know, Eric Wilson's weekly column that will help you become a fashion know-it-all in one quick read. Each week, he'll take a look at an endearing fashion influence and why it's relevant right now. Enjoy!
In the fall 2014 collections, Badgley Mischka showed ball gowns made with plissé brocade, Andrew Gn designed a sheer plissé skirt and Chris Gelinas, an adventuresome young New York designer, used a special techno fabric that bonded aluminum netting with silk tulle plissé. So what the heck's plissé? And why not just call them pleats?
For one thing, plissé, as the past participle of the French verb plisser (or "to pleat") sounds fancier. But its translation in contemporary fashion has become somewhat muddled, and is sometimes used to describe forms of pleating that might better be called sunray, knife, box, or accordion, depending on the sharpness and width of the folds.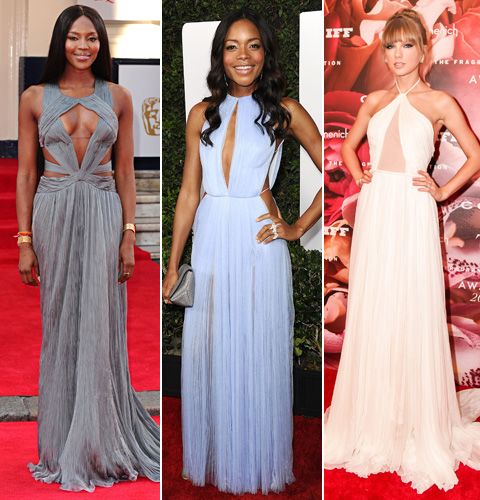 A more traditional meaning of plissé is a fabric or finish of very fine crinkles, wrinkles, and puckering, achieved either by treating textiles such as crepe or chiffon with a caustic soda or by tension weaving. It should ideally look like something you pulled out of the bottom of the laundry bag after a month or two, and didn't bother to iron. A cousin to summery seersucker, the fabric is prized for its breezy, lightweight qualities, although it does present a nightmare for dry cleaners.
References to plissé appeared regularly in fashion during Victorian times and among fancy wedding gowns of the first half of the 20th century, and wrinkly ancestors were even seen in the Middle Ages. But plissé does seem to be experiencing a comeback. The word has cropped up with more frequency in recent seasons, the result of both technical advancements in textile manufacturing and the desire of young designers to experiment with modern treatments of traditional fabrics. Zac Posen, for one, created some beautiful plissé cocktail dresses by hand in his spring collection, and Bottega Veneta's Tomas Maier has made plissé dresses with multi-color prints and elaborately swirling wrinkles into a signature of the house.
How do you say plisse? Click the arrow below to hear!
plis·sé
plēˈsā,pli-/