With one of the oldest fashion departments in the country, Pratt Institute has a lot show for it, namely a distinguished annual end-of-year fashion show featuring its graduating seniors' final thesis collections. Last night marked the school's 115th, where 21 fashion designers-to-be presented their work to a bustling crowd at Center548 in Chelsea. Each held its own with distinctive aesthetic attributes, whether it was strength in minimalist tailoring or an affinity for floral appliques.
One in particular, though, was given the $25,000 Liz Claiborne Concept to Product Award to help with the crippling cost of producing a collection post-graduation—22-year-old Julia Wollner from Midland Park, N.J. Wollner's line-up (pictured above) tells the story of her personal experience with Bell's palsy (a nerve disorder she was diagnosed with almost two years ago that paralyzed half of her face) by using abstract prints of her face, printed vinyl, and strong silhouettes to convey immobility, or "stillness."
But the biggest draw of the 2014 Pratt Institute Fashion Show wasn't, in fact, the seniors, but the notable guests. Legendary supermodel Pat Cleveland presented the 2014 Pratt Fashion Award for Lifetime Achievement to designer Stephen Burrows, and award-winning actress Angela Bassett honored designer Byron Lars with the 2014 Pratt Fashion Visionary Award (pictured below). Previous honorees include Thom Browne, Catherine Malandrino, Narciso Rodriguez, and Diane von Furstenberg.
"Stephen and Byron have truly distinguished themselves through their tremendous range of work, their bold interpretations of American sportswear and their innovative use of color and form," Pratt Institute president Thomas F. Schutte said in his introductory speech. "They have each transformed the fashion landscape, both in the United States and abroad."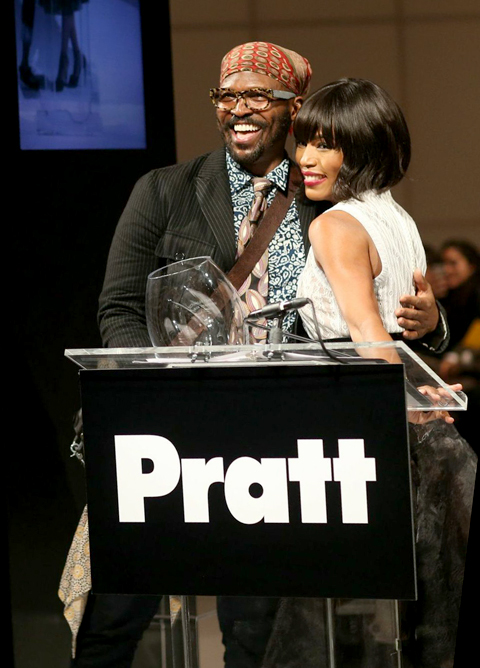 Fernando Colon
Cleveland danced up onto the podium, admitting to all that she was once a fashion student—until she met Burrows and pursued a career in modeling—peppering her speech with thank yous to the designer for his beautiful, colorful designs. In turn, Burrows cited Cleveland (and now her daughter) as his muse and his inspiration—along with his mother's black patent leather pumps.
Next up, Barrett (clad in a Byron Lars design, naturally) paid homage to Lars's work: "Byron creates magic in needle and thread, weaving his unique ideas and pure genius into every stitch." But it was Lars who took the opportunity to dish out life lessons to the fashion fledglings.
"My most sage advice would be not to be in such a hurry to become Mr. Calvin Klein or Alber Elbaz. Work like hell every day—every day—but relax in terms of this timetable they feel they're on," he told InStyle.com prior to the show, before comparing the process to fruit. "If you bite into that peach before it's ripe, it'll never be sweet or achieve its potential. It's gotta take its time to develop those sugars and turn it into something delicious that everybody wants a bite of."