Bad hair days are no fun. Sun outside our window and a forecast of 80 degrees may seem like the formula for a perfect hair day, but this can often be deceiving. Without taking all the factors into consideration, even a princess can leave the house with a perfectly coiffed mane only to end up with a jumble of frizz and unruly locks due to wind or humidity. Well, thanks to a new web app, the dreaded bad hair day may become a thing of the past.
Welcome How's Your Hair, a weather app for your hair. Where as your iPhone will just tell you the weather stats, How's Your Hair translates these forecasts into usable beauty tips. It'll tell you the current weather (overcast, raining, sunny), as well as the wind and humidity. Depending on the weather, it will let you know if you're going to need an umbrella or a hat, if you're going to be stuck with a frizzy 'do, or if it's going to be a good hair day.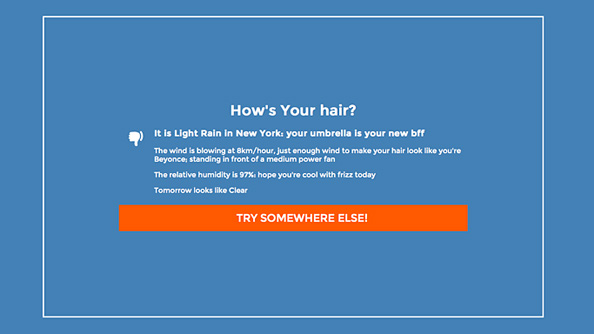 Courtesy Photo
And if you style your strands the night before, How's Your Hair has got you covered, too. The app also give you tomorrow's forecast, letting you know if you should skip the straightener tonight.
Plus, click through our gallery to see how to solve your biggest hair problems.