Ever dream of that perfect pair of sunglasses but have yet to find them? Talk about making dreams come true: Ray-Ban Remix now allows you to purchase personally-designed sunglasses. With nine available models to choose from– all the brand's iconic styles are available, including the sleek Aviator, classic Wayfarer and trendy Erika– sunglass enthusiasts can customize the colors, frames and lenses. There's also no chance of a shades mix-up. You can even engrave up to four phrases on your pair of shades.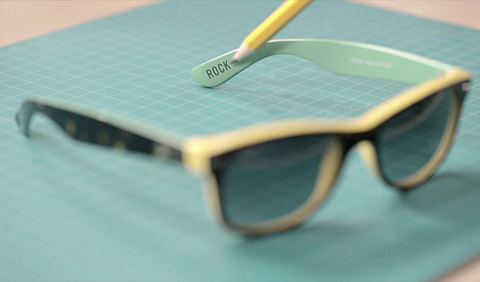 Courtesy Photo
With a few clicks and a little inspiration, your custom pair of sunglasses is at your fingertips.  Opt for bright orange or metallic silver lenses for a unique look. Color-block a pair of sunnies in pastel pink, minty turquoise or dove gray for the perfect springtime accessory of your own design. You can even select a case color!
Your custom Ray-Ban creation will ship to you in less than a week, chosen engravings and all. Design your own pair of Ray-Ban sunglasses now, for yourself or a friend, ($130 and up) at ray-ban.com.
For more spring fashion, check out our gallery of celebrity-inspired accessory trends to wear now!