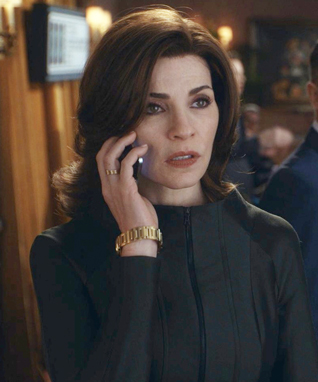 See All Photos
Courtesy CBS
NOTE: THIS POST CONTAINS SPOILERS. Loyal fans of The Good Wife, including myself, were thrown for a total gut-wrenching loop last night when the show's male lead, Will Gardner (Josh Charles) died in a shocking courtroom shooting (season five, episode 15). There was a sense of emptiness when the episode was over—a real feeling that you lost someone. That feeling was amplified even more for those who work on the show, including costume designer Daniel Lawson. "I was in tears the whole time I was working on this," he told us this morning over the phone. "It was really hard. It's not just that a character's gone, it's also Josh that's gone, too. He was such a great friend. It took the wind out of our sails for a while. We miss him. He was a real heart of the show." And he knows it's hard for us, too. "I know the fans are going to be sad because so many fans loved Will," said Lawson. "There is such honesty about him that people respond to. Women are completely in love with him."
Lawson's approach to designing the costumes for this episode was specific and calculated. "We wanted to make it look as realistic as possible and have that moment be a total surprise," said Lawson. Therefore, he put Charles in a lighter suit—both because that is what he'd wear to court and because it would show blood. "The key was to make it as realistic within our world as possible and not drop any hints or clues," he said. "This was a difficult episode to shoot, both technically because of what it required and emotionally." Even for the actor who played the student on trial, Lawson underscored his mental breakdown by giving him baggy, oversize clothes. As for Alicia Florrick (Julianna Margulies), he wanted all of her outfits to be really unassuming.
Lawson also gave credit to the creators, Robert and Michelle King. "It's amazing how they keep a story alive," said Lawson. "They allow he characters grow and change, and they write for that. What a boring show it would be if people didn't grow and change. In real life, tragedies happen, and they're addressing it. And they ask, 'How do we all keep going?'"
The cast and crew knew that Charles would be leaving at the end of the season, but they didn't know how. "We had all year to think about it, but when we actually did it, it was devastating," said Lawson. "And it was over before we knew it. It was really heartbreaking, and it was hard to let him go." That said, there is an upside. "Josh will be coming back to direct," said Lawson. "He's a very talented director, so I'm excited to work with him again like that."
Find out what Alicia Florrick (Julianna Margulies) in the episode here.