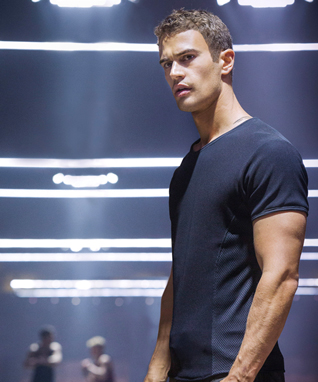 Randall Mesdon
Playing the hunky hero Four in Divergent (in theaters now) certainly wasn't much of a stretch for the genetically blessed Theo James, but even he had to hit the gym to play Tris' (Shailene Woodley) intimidating but intriguing love interest.
James told us that while he originally thought he had the physique to fill out Four's strapping black costume, director Neil Burger had another idea. "He actually said, 'He needs to be physically imposing,' which is a really good way of making you want to go to the gym every day," he recalls. Talk about motivation!
So to the gym he went, but working with the film's stunt team also contributed to those swoon-worthy biceps. "We had a good stunt team and they kind of helped me through it and gave me tips," James tells us. "They're the ones who make sure [the fight scenes] are as good as possible." Even if that means suffering for the good of the film. "One time I had seven moves very quickly and halfway through, I managed to cut this guy's lip and he had to have 25 stitches. I still feel guilty." We're sure all is forgiven now, Theo.
To see James show off his moves (safely, of course) in Divergent, head to theaters now, and don't miss Theo James and Shailene Woodley go from Divergent grime to glam in our March issue! 
With reporting by William Lee Adams