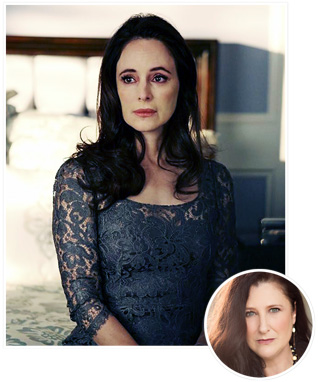 See All Photos
Courtesy Photo (2)
Last night's episode of Revenge gave us serious #outfitenvy. To kick things off, Emily, mid-blackout, destroyed the double infinity sign her father carved onto her porch years ago. In a frenzy, she tells Nolan that she's going to finish what she started, and is planning to kill them all. Assuming she means the Graysons, Nolan approaches Aiden for help. "It's really hard for the audience to see Emily out of control," says costume designer Jill Ohanneson, who dressed Emily in a black and white outfit to reflect the conflict going on between Emily Thorne and Amanda Clarke. "The two sides of herself were at war with each other, and instead of going after the Graysons, she was turning on Nolan and Aiden, going after the people she loves, so there was a weird schism happening and there's something dark trying to break through."
Aiden kidnaps Emily as she's attempting to plant a trap for Conrad, and uses Takeda's old method dunking her head under water over and over in an attempt to reach a breakthrough. She remembers the night before she was taken from her father, and recalls catching her father in bed with Victoria. Emily's father chases her down the beach and asks her to accept Victoria as family, and Emily then breaks down to Aiden, blaming her father for not listening to her when she told him to leave Victoria in the first place. Her mission once again becomes clear, and she is intent on clearing her father's name.
Meanwhile, Stevie attempts to meet with Jack. She tries to explain to her son how hard it was to leave him, but he has no interest in having a relationship with her. Once he speaks to Emily and confesses that Stevie Grayson is his biological mother, she convinces him to give her a chance. Stevie and Jack once again meet up, and she reveals that she was an alcoholic back then, telling him that she couldn't be a decent mother as she didn't even know how to take care of herself. The two reconcile, and Jack asks Stevie if she'd like to meet her grandson.
After causing a scene at his father's funeral, Patrick is attacked by Jimmy Brennan's friends and ends up in jail. Victoria bails him out, then confronts Nolan for revealing the truth about Patrick's father — Patrick has been spiraling out of control since he learned that Jimmy attacked Victoria. Nolan feels guilty and confesses to Patrick that he always wanted good things for him, and convinces him to show his artwork at an event he's throwing. Famed artist Stefano Leoni is expected to attend, and Patrick agrees. Stefano expresses interest in Patrick's work at Nolan's party, and offers him an apprenticeship in his Tuscan studio. In need of a break from the Hamptons, Patrick accepts, and breaks the news to Victoria over a voicemail.
Not to be forgotten, Daniel also has an agenda up his sleeve. He hires an investigator to follow Emily, and learns that Emily is still in touch with Aiden. "He's starting to channel the worst of Victoria and Conrad," says Ohanneson. "He's been manipulated by Emily, and he's angry. He wants to get her back, but in the sense that he wants to reveal her for who she actually is." Each week, we catch up with the show's costume designer Jill Ohanneson to find out what each character wore, and the story behind each piece. Click through our gallery to get all the exclusive details now!