Molten metals, one of this season's hottest trends, practically oozed off the spring/summer 2014 runway in all of its iridescent glory. But let's be honest: Head-to-toe lamé is a tad more challenging to pull off in real life. The non-committal way to work the trend? With a shimmery scarf. Inspired by the Lanvin runway, here's how you can inject a touch of luminosity into your look without diving into a pool of megawatt shine.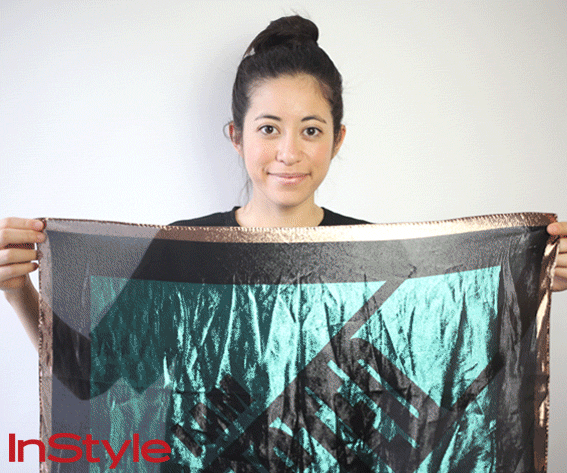 Sarah Balch for InStyle.com
What You'll Need
A sparkly, silky square scarf (lurex, sequins, metallic threads all work). We were lucky enough to get our hands on the Lanvin scarf (unavailable online), but similar styles are available from Vince Camuto ($41; nordstrom.com) and Golden Goose Deluxe Brand ($157; farfetch.com).
Step 1
Start folding from one of the ends, keep folding at one to two inches in thickness until it forms a long rope.
Step 2
Bring it to your neck and tie the ends together.
Step 3
Double-knot it and position it off-center.
And voilá! For more tutorials like this, check out our how-to section.