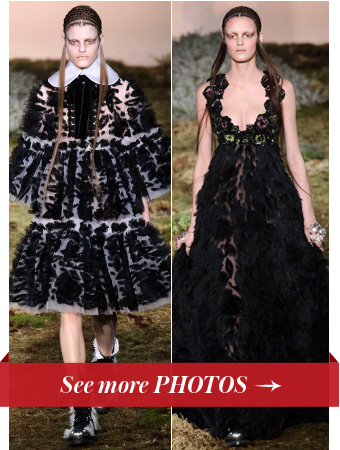 See All Photos
Imaxtree (2)
Designer: Sarah Burton for Alexander McQueen
Location: Paris
What was it like: In lieu of a traditional runway, models navigated their way around a track modeled after what felt like the wild moorlands of way back when.
Why we love this collection: Dramatic, yes, although Burton's fall 2014 collection was not as outrageous as those of seasons past—but perhaps that's the point. From the severely braided 'dos to the excessively bold brows, the overall beauty was immeasurable, and there was a clear demonstration in the fine craftsmanship, from the fur coats (and fur detailing) to the intricate trapeze dresses to the exquisitely embroidered gowns. The line-up may have been eerily romantic and soft, but there was no denying the underlying current of strength.
Take a look at our top 10 favorite runway looks from the Alexander McQueen fall/winter 2014 show.
MORE:
•Why Paris Fashion Week Feels Like Speed Dating
• Back of the Cab Review: Christian Dior
• Eric Wilson's Front Row Diary: Paris Fashion Week