Pictured, from left to right: Runway shows at Céline, Givenchy, and Chloé.
Leopard and cheetah spots, zebra stripes, snakeskin prints, fake fur, real fur, and fuzzy-wuzzy wooly coats have been so prominent in the fall collections shown in Paris this week that you might think fashion designers here had taken a group safari as an inspiration trip. Well, it's not been as simple as that, and the clothes are not all nearly as garish as they might sound. In fact, the Paris shows have also included a sharp focus on practical designs, most admirably in the coat-dominant collections of Phoebe Philo at Céline and a tribute to working women by Raf Simons at Dior.
But it's the spots that people will have people talking, from Balmain to Carven to Givenchy to Céline. Céline? Let's start there, with Philo's diverse collection, which overall marked a strong return to her spare, figure-friendly designs, but still had a few pops of rather blurry flocked animal patterns on wrap coats that carried forward the more vibrant elements of her spring collection. All the more impressive was that the impeccably fitted, solid coats that opened her collection, with contrasting white buttons and button-hole stitches placed in neat rows, held their own.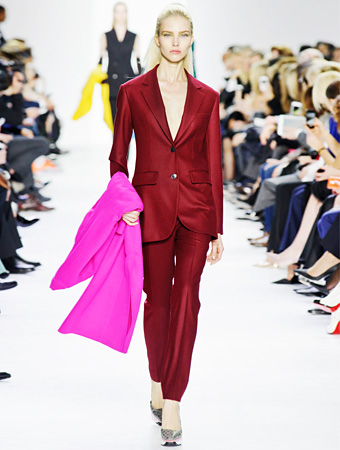 ImaxTree
Givenchy's Riccardo Tisci approached animal prints with more exuberance, styling proper lady blouses in snakeskin prints along with leopard print coats and another sweet dress printed with butterflies. At Chloé, Clare Waight Keller, known for tomboy chic, offered an appropriately artsy/sporty take on leopard with a tunic embroidered with multi-colored spots. There were even leopard spots on boots at the Roger Vivier presentation, where Bruno Frisoni, the creative director, created a vaguely Asian bazaar to showcase his 1960s-tinged designs. Frisoni said the decade might have appealed to so many designers this season because there was generally a mood for easier, carefree fashions in the spirit of Belle du Jour.
Fear not if animal prints are not your thing. The Dior collection was called "city lights." Raf Simons, who has already created several stirring collections connected to the ultra-feminine Dior heritage of the femme fleur, transferred that concept to "the silhouettes of city works, its forms echoed in traditional masculine fabrics," he said. In other words, there were powerful suits with exceptional, softly-tailored shoulders, the models carrying their bright-colored coats slung over one arm, as if they had been walking home on an unexpectedly warm day (pictured, right).