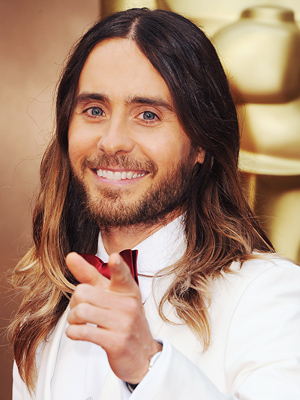 Steve Granitz/WireImage
Jared Leto has had quite a year thanks to his transformative role in Dallas Buyers Club, which has already earned him a Golden Globe award and an Academy Award nomination for Best Supporting Actor. But his ombré locks have also created some buzz, you could even say his hair is on fire right now.
"It's on fire? It's en fuego," Leto told InStyle during the Independent Spirit Awards (where he took home a trophy for Best Supporting Actor). As for his Oscar hairdo tonight, he gave us a hint yesterday afternoon as to how he might style it. "If it's raining maybe I"ll wear it up. It happens right before, not a lot…goes into it." Thankfully the rain held off because the nominated actor chose to wear his locks down versus the chic man-bun we saw at the 2014 Golden Globes. Do you have a favorite Leto-hairstyle look? Tell us by voting below and learn how you can pull off his look too!
How To Get Leto's Look: 
1. First prep wet hair with Vidal Sassoon Pro Series Waves Primer Spray, applying it throughout hair.
2. Apply Vidal Sassoon Pro Series Waves Pomade to the length of the hair for a flexible hold and soft, glossy curl definition. Create the desired part and let hair air-dry.
3. On the next day, spray Vidal Sassoon Pro Series ColorFinity Dry Shampoo in Rich Darks to the roots to refresh the second day hair, which will also protect hair color.
4. Spray Vidal Sassoon Pro Series Heat Protect & Shine Spray to the ends and take several sections of hair and straighten for a smooth look.
Get more Oscars and see what everyone is wearing on the red carpet!
MORE:
• 10 Reasons We're Excited About the Oscars
• Red Carpet File: Jared Leto's Sharp Rocker Style
• Pair Celebrities With Their Oscars Jewels!