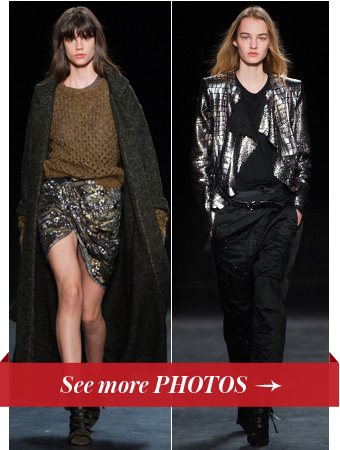 See All Photos
Imaxtree (2)
Designer: Isabel Marant
Location: Paris
What was it like: There was a relaxed vibe to the collection, as models sauntered down the catwalk to "Girl U Want" by Devo.
Why we love this collection: There's nothing more French or more street than Isabel Marant (she was responsible for the explosive popularity of the wedge sneaker, after all). For fall 2014, Marant once again captured the art of effortless style with a mash-up of tomboyish nonchalance and too-cool glamour, which at times bordered on grunge. Chunky neutral knits knocked down the glam effect of shimmery pieces and loose slouchy pants got a tough look, with plaid, army green, and leather.
Take a look at our top 10 favorite runway looks from the Isabel Marant fall/winter 2014 show.
MORE:
• Eric Wilson's Front Row Diary: Paris Fashion Week
• #PFW Feels Like Speed-Dating: Exhilarating But Overwhelming
• Back of the Cab Review: Christian Dior