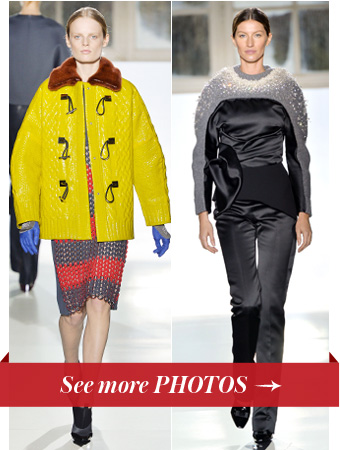 See All Photos
Imaxtree (2)
Designer: Alexander Wang for Balenciaga
Location: Paris
Notable guest: Kanye West
What was it like: A similar set-up to that of last season: A plain strip flanked by mirrors, which magnified the bold colors and textures from this season's looks. But what really made headlines was the finale, when supermodel Gisele Bundchen and her super-famous stride closed the show.
Why we love this collection: If there's any designer who can push a heritage brand into the present and the future, it's Wang, who just a few weeks ago showcased a very futuristic fall 2014 collection for his namesake line. With Balenciaga, the designer exercised the same mindset and churned out modern takes of pieces that strongly hinted at the past—designer Cristóbal Balenciaga's past, in fact. Modernized fisherman coats and netted fabrics served as a nod to Balenciaga's hometown: Getaria, a fishing village in Northern Spain.
Take a look at our top 10 favorite runway looks from the Balenciaga fall/winter 2014 show.
MORE:
• Eric Wilson's Front Row Diary: Paris Fashion Week
• Back of the Cab Review: Dries Van Noten
• Milan Fashion Week Ends With Split Personalities