In this weekly feature, InStyle's Fashion News Director Eric Wilson shares his favorite fashion moment of the week, and explains how it could shape styles to come. Look for it on What's Right Now every Friday.
Pictured, from left to right: Katy Perry making her fashionably late appearance at Moschino, and runway looks at Moschino and Prada.
The Moment: It was 8:50 p.m. Thursday night, and "Dark Horse" was blaring for at least the third time in an hour, when a very tardy Katy Perry stepped onto the Moschino runway to pose for the floor-to-ceiling bank of photographers who were waiting for the start of Jeremy Scott's debut for the label. Perry was greeted with a chorus of boos (as was Rita Ora 10 minutes before her), since fashion pros don't like to wait for stragglers, not even famous pop stars.
The first two days of Milan's fashion week have been marked by moments both sublime and ridiculous, but it's not always clear which is which. Scott has many ardent fans, like the guy in standing who wore a T-shirt printed with the names "Franco," for Franco Moschino, the late founder of the house, and "Rossella," for Rosella Jardini, who designed the label for the last 20 years, both scratched out. Then came "Jeremy," for Scott, whose wacky collections and Adidas collaborations made him seem like a natural fit for a label with a joyous history of fashion parody. Did Scott deliver? That depends on your sense of humor, as in, do you think it's funny to see an image of SpongeBob SquarePants rendered in a fur jacket, or evening dresses printed to look like the packaging of chocolate bars, popcorn and Fruit Loops? How about a mink coat in yellow and red, inspired by a McDonald's uniform, or handbags shaped like a Happy Meal or an extra-large soda? Perry took one look at that and screamed, "Oh my god!"
The meaning in Miuccia Prada's collections are never so literal, and her big fall show had many levels to it, including an enormous set made of gray felt, with models weaving up and down staircases, onto platforms and around a live performance of Kurt Weill compositions in German that veered into techno remixes. The entire room was enclosed in some form of metal cage, which was slightly terrifying. And the clothes, said Prada, who took an unusual degree of inspiration from the films of Rainer Werner Fassbinder, were meant to look both sophisticated and vulgar. So which was it? Actually, great printed coats with furry seams or gold trim, curly hair shearlings in great, bright color blocks, shoes that looked like plastic skyscrapers, and shiny dresses that draped loosely from the body, like smocks.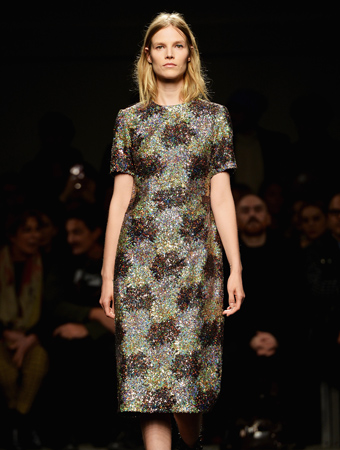 Tullio M. Puglia/Getty Images
Why It's a Wow: Designers are really bringing the energy back, or at least the Instagram moment if you consider the furry dolls that Karl Lagerfeld designed in his own image at Fendi, a show that also had drones flying above the audience to record the runway. If all this sounds too weird, consider that Milan has already provided a surprising number of collections that are also sensible. Take Frida Giannini's easy-going show of pastel furs and jeans for Gucci, with their 1960s French vibe and Belle de Jour styling. Her swingy short dresses also came in a range of appealing colors and one animal print, plus several versions with bibs of crystals. And if you like that touch of flash, check out Alessandro Dell'Acqua's label, called No. 21, which incorporated crushed crystal as glittering disco dresses (pictured right), and all-over embroidery on coats and shoes that looked incredibly flashy, but not one bit silly.
Learn More: Get into Milan Fashion Week by pulling up a plate of pasta and refreshing yourself with recent collections from the big designers still to come, including Versace, Roberto Cavalli, Missoni and Giorgio Armani, or get into the Prada mindset by curling up for a weekend of dark Fassbinder flicks like "The Bitter Tears of Petra von Kant," which is actually about a temperamental fashion designer… hmmm. And after that, it's on to Paris for the finale of the fall collections.
MORE:
• The Shows That Brought the A-listers Back to Fashion Week
• 30 Years Later, Donna Karan's Provocative Streak Is Alive and Well
• A Crowded Calendar Causes Designers to Pull Out All the Stops at NYFW