Eric Wilson is InStyle's Fashion News Director. Sit front row at Fashion Week with him by following him on Twitter (@EricWilsonSays) and Instagram.
Pictured, from left to right: Runway shows from Tom Ford, Burberry, and Mary Katrantzou.
As London Fashion Week regains its stature among catwalk capitals, with a wealth of hot young design stars and two major players (Burberry and Tom Ford) showing here, one of the most intriguing results of that momentum is that a long-held perception of English fashion is quickly fading. No longer is London the city for runway provocateurs, nightclub crawlers, and independent punks, but rather, it is where clothes make commercial sense and the trains run on time.
Illustrating that difference most vividly was a popular exhibition that ended this week at the Victoria & Albert Museum covering London fashion of the 1980s, called "Club to Catwalk." That show included rubber fetish wear and the eccentric costumes of Leigh Bowery and, during their college years, John Galliano and Pam Hogg, so perhaps it is an extreme example of what was once London fashion. Now, like most cities and just about every small town in between, it reflects a more international sensibility.
For example, at his well-reviewed show on Monday, Ford — a famous native of Texas who long ago conquered Paris and Milan with his sexy-glamour looks and now chooses London as his home — presented a more-restrained-than-usual vision. It is now rendered in long tunics of black or crimson velvet, both closely fitted and covered up. (His description was "modest luxury.") And, on the lighter side, he showed sequined dresses that were patterned off of football jerseys, actually an inside play on a much-copied jersey worn by Jay-Z during tour performances of his "Tom Ford" song, so delightfully not too self-serious.
While those football jerseys may have been the most widely broadcast looks on social media during the London shows, Christopher Bailey's latest concept for Burberry Prorsum will also have legs. Bailey, who is taking over as the company's chief executive officer this year in addition to being its designer, showed a cleverly coordinated, and vastly marketable, collection of trench coats, handbags and shoes. Almost all of the designs were individually hand-painted with a floral or vine motif by the Burberry design studio so that no two items will be alike. And they were made available for immediate order after the show at burberry.com. (Now hold onto your hats: A deerskin trench costs $10,000, and a Bloomsbury leather bag is $3,995, so treat them like the artworks they are, or otherwise, go to iTunes, where you can download the music that was performed live at the show by the likes of Paloma Faith, Ed Harcourt, and Rhodes.)
What London still has that will probably never change is a lot of fantastic designers in the making, and this was a breakthrough season for many of them. Among the highlights was Mary Katrantzou, the designer of crazy-eerie-beautiful printed dresses that have become a big hit among the red carpet crowd. She's been eager to push beyond prints, and finally found a pathway there with gowns made of so many tiny embroidered patches and insignias that they became like a form of lace, and, amusingly, were inspired by the badges of scouting uniforms.
Christopher Kane, whose company is now part of the Kering luxury group, had several ideas and evidently the resources to try every single one of them – leather handbags, fur-trimmed nylon dresses and, most effectively, a series of organza dresses that resembled mille-feuille pastries, with layers and layers of silk fluttering along the catwalk like the pages of a book in the breeze. And for the sheer delight of color, my personal favorite of the London shows was Peter Pilotto (pictured, below), the label designed by Peter Pilotto and Christopher De Vos, which combined brilliant blue fur trim and burgundy mesh with technical insets that resembled frosted glass in a sweatshirt/skirt combination, and elsewhere a frosty mountain print on a fitted dress with a trio of white ribbon belts.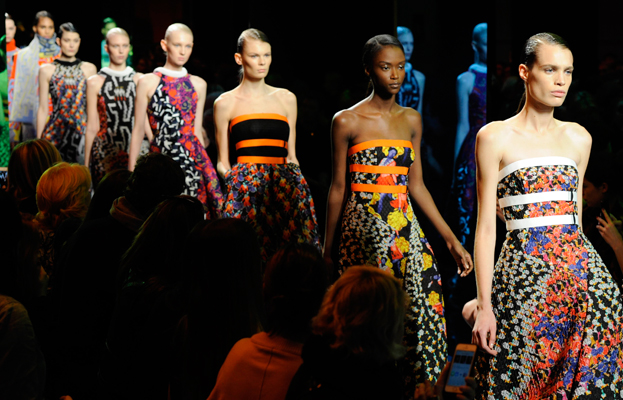 Stuart C. Wilson/Getty Images
MORE:
• Runway Looks We Love From Burberry Prorsum
• Watch a "Back of the Cab" Review From London Fashion Week
• Forget Paris: Take a Trip to Soho's New European-Inspired Hotel