You may not be able to super-size your fast food order anymore, but you can still super-size your updo! The top knot is nothing new — it has long been our go-to when we need to look polished in a minute flat, hide second-day strands, or elevate an otherwise simple getup, but for fall 2014, designers at New York Fashion Week took the traditional ballerina bun and pumped up the volume. Models at Marissa Webb, Carolina Herrera, and Diane Von Furstenberg wore the exaggerated knots high on their crowns, often adding extensions or stuffing to build up the shape. "We're putting in these little ponytail pieces, and creating little florets at the top of the hair, and then the ends of the ponytail get wrapped around so that it looks like a band," says Orlando Pita, lead hairstylist at Herrera's show. "There's a lot of hairspray and serum by Biosilk, and a lot of pins. You definitely need a hair dresser to do it!" To create the same effect on a smaller scale at home, we recommend using a mesh bun insert close to the color of your hair to form a solid foundation. Our favorite option is Mia's Bun Ease ($8; ulta.com), which allows you to roll your ponytail into the insert and minimizes the amount of bobby pins needed to hold the style.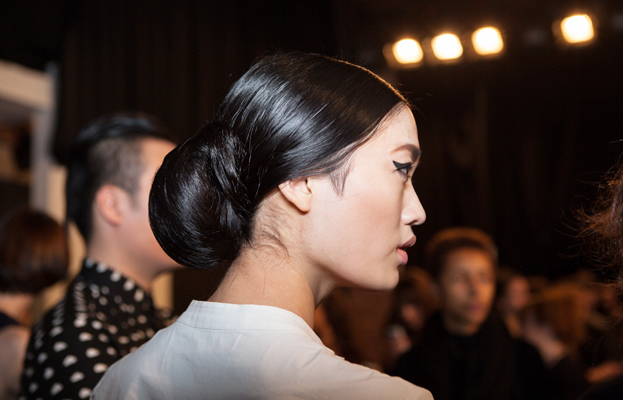 Courtesy Photo
At Christian Siriano's show, the updos were placed lower at the nape of the neck to mirror the designer's Parisian glam vision. Lead hairstylist Anthony Cole used a cocktail of Sebastian products to impart a mirrot-like shine with lasting hold, and after blowing out the models' strands, he created a precise center part and a low ponytail. With Sebastian's Shaper Hairspray ($18; sebastianprofessional.com for locations), Cole teased the ponytail layer by layer, then rolled the length underneath, securing the style with hair pins at the base of the style.
See more of the best beauty moments from Fashion Week in our gallery!