What do you get when you take mix inky noir liners with a designer's inspiration, and a makeup artist's steady hand? The coolest take on a cat eye we've seen all Fashion Week long, of course. Veering from the traditional elongated wing, the pros backstage at Carmen Marc Valvo, Herve Leger, and Libertine switched up the liner game by incorporating unique shapes, and unexpected finishes. Valvo's models worked a minimalist double-winged look, while lead makeup artist Val Garland took things in a science fiction-inspired direction by creating a sharp outlined effect for Herve Leger. "The collection is very futuristic, so I wanted the makeup to reflect that," she tells us. "Skin shining through, a matte sci-fi eye, and a glossy lip. I wanted the girls to feel fresh, forward, and out of this world." Alternately, makeup artist Katie Jane Hughes went the vintage route by giving Libertine's smoked-out cat eye a nod to the '60s by tracing the lower lash line in white. "I saturated the bottom lash line with Butter London's eye pencil in Alabaster Glaze (available in April), then layered the matching cream shadow on top to create a starlight effect," says Hughes.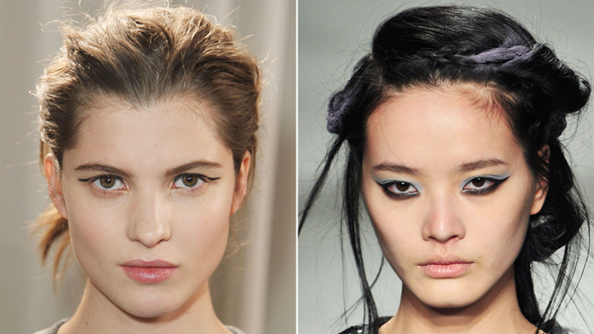 Courtesy Revlon, ImaxTree
And for inspiration geared more toward everyday wear, we loved how the smudgy liner at Emerson amped up the powder blue shadow, and how the minimalist wing at Rag & Bone was seemingly simple, but still retained a graphic edge. "This look focuses on a bold eye with luminous skin. I started with a creme liner, then went over it with a liquid liner to create a more precise line," says Rag & Bone lead makeup artist Gucci Westman, who used Revlon's Colorstay Creme Gel Liner in conjunction with the Liquid Eye Pen ($10 and $9; ulta.com) on each model. "This is not your typical cat eye — this look is about pushing it to the edge with a more graphic liner." We recommend working with a felt-tipped liner, as the fine tip helps you form a precise shape. To clean up any uneven lines or smudges, keep a pointed cotton swab dipped in moisturizer or eye makeup remover handy. The sculpted tip allows you to blend out those hard-to-reach areas without disrupting the rest of your liner.