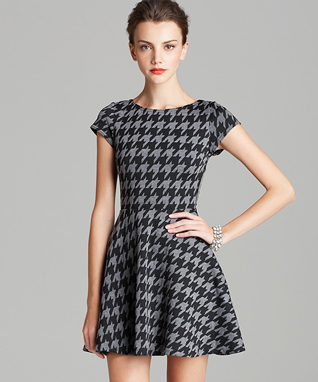 Courtesy Photo
Dana Weiss of Possessionista.com is InStyle.com's correspondent on all things New Girl fashion for Season 3. Scroll down to read this week's exclusive update on what Zooey Deschanel wore.
On this week's episode of New Girl, costume designer Deb McGuire knew exactly what to put on Jess (Zooey Deschanel)—a black-and-white houndstooth dress ($62, bloomingdales.com) to contrast the black-and-red details in the loft.
"When I read the script I try to imagine what will look best and then I pull several options. Then I have to sell my choice to Liz [Meriweather], the creator, and Zooey." Fortunately, they both agreed with Deb's assessment. "This was my favorite and the fit was perfect. Slightly short-waisted…which I love!" For more New Girl-inspired outfits, click here.
MORE:
• Get Jess's Bowneck Sweater on New Girl
• Zooey Deschanel's Apple Print Dress
• Zooey's New Capsule Collection
—Dana Weiss of Possessionista.com