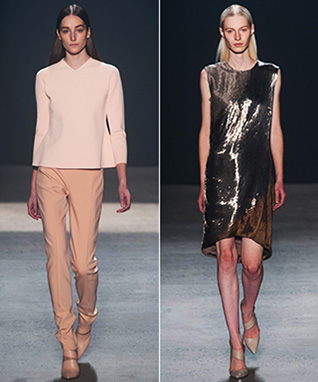 See All Photos
Imaxtree
Designer: Narciso Rodriguez
Location: Sir Stage37, 508 West 37th St
What was it like: A dark, intimate space with track lights illuminating the runway path as models marched to heavy drum-like beats.
Why we love this collection: Rodriguez started off strong, sending out monochromatic looks in red (a shade leading the pack of fall 2014 trends) before tapering off with more muted colors of nudes, whites and blacks, with color-blocked tops and shift dresses sprinkled in. Free of frills, there was a call for close attention–and appreciation for the minimalist pieces crafted out of wool crepes and silks. Clean, tailored lines aside, the designer closed with embroidered evening wear (his expertise) that shimmered and sparkled with each step.
Take a look at our top 10 favorite runway looks from the Narciso Rodriguez fall/winter 2014 show.
MORE:
• Fashion Week Day 6: Your 60-Second Recap
• NYFW Trend Alert: Fiery Red Looks
• Eric Wilson's Front Row Diary