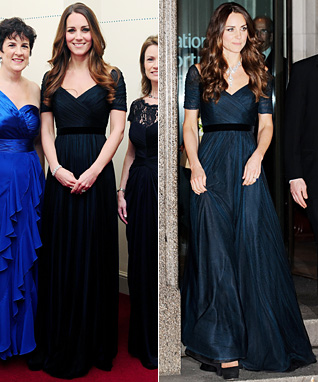 See All Photos
Rex USA; Splash News
How did Kate Middleton glam up her latest outfit repeat? By frosting herself with some of Queen Elizabeth's diamonds. The Duchess of Cambridge made a glamorous entrance to the National Portrait Gallery's Gala—home of her official royal portrait—by re-wearing the same belted off-the-shoulder ink blue Jenny Packham silk tulle gown she debuted just a few months earlier at the 100 Women in Hedge Funds/Action on Addiction gala dinner. But this time around, she added a stunning diamond-drop necklace on loan from her royal grandmother-in-law. Now that's how you accessorize.
What makes this repeat all the more special? At just around the same time Middleton stepped out in her Jenny Packham gown, the designer herself sent down her chic fall/winter 2014 collection right down the runway during New York Fashion Week. "The [Jenny Packham woman] has integrity and wit," Packham says. "I like the challenge of dressing ladies in lots of different things. With an evening wear collection, each piece has to be quite individual." We hope to see the Duchess of Repeats in one of Packham's latest evening wear gowns soon, you know we'll be watching.
To see more of Kate Middleton's best outfit repeats, look through our gallery!
MORE:
• Kate Middleton's Best Looks From 2013
• Kate's Wedding Tiara on Display in Paris
• Kate and William's First Family Photo with Prince George