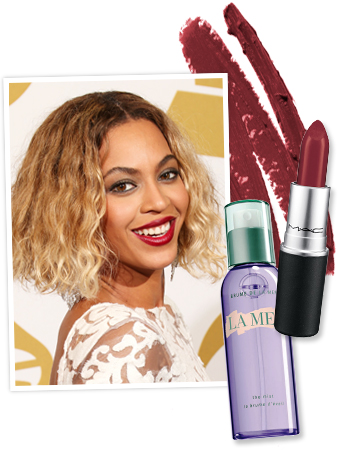 Jeffrey Westbrook, Dan MacMedan/WireImage, Courtesy (2)
Although the Grammys were almost a week ago, the deep, sanguine lipstick Beyoncé wore to the event is still fresh in our minds, which is why we caught up with her makeup artist Francesca Tolot to get all the details on her glamorous look, and how it came together. "We went with a modern, silent-movie feeling," she tells InStyle.com exclusively. "I adore working with her, she is inspiring to me."
Before setting her flawless finish, Tolot gave Beyoncé's complexion a spritz of La Mer's The Mist ($60; cremedelamer.com), and — fun fact — the hydrating toner is actually her favorite product to use on the star. She picked up MAC's lipstick in Studded Kiss to create the statement lip, and while that specific shade had a limited run, Tolot recommends using the MAC shade in Dare You ($15; maccosmetics.com), a vampy crimson that's a close second to the original.
Beyoncé wears the statement lip look well, and along with the smoky eye and nude gloss combo, it has become one of her trademarks. Still, she's always game to try new things Tolot says. "She's open to changing her makeup when she feels the time is right," she says. "Beyoncé does not have any rules when it comes to makeup. She's open to creativity and achieving the perfect look for each opportunity."
The duo certainly nailed it this time! Paired with her subtle gray shadow, the rich lipstick makes for a striking contrast against her beautiful Michael Costello gown.
We love this look, but is it one of the most memorable? Tells us what you think by checking out some of the most unforgettable Grammys beauty looks ever!
MORE:
• The Man Behind Beyoncé's Grammy Dress
• Learn Your A, B(ey), Cs with the Beyoncé Alphabet
• Beyoncé and Jay Z's Adorable Moments at the Grammys