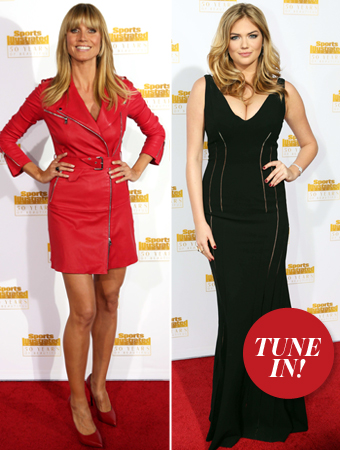 Ann Johansson for SI (2)
Want a history lesson on 50 years of being beautiful with Heidi Klum as your teacher? You're in luck! In honor of Sports Illustrated Swimsuit's 50th anniversary, Project Runway's beloved host and veteran supermodel is going back in time with a two-hour television special that takes a peek at the first 50 years of Swimsuit and all the models that have graced its iconic cover.
With behind-the-scenes footage, a count down of the top 10 covers of all time (we have our bets on Kate Upton's debut cover or even Beyonce's), the show will also feature special appearances by Swimsuit icons —including Kate Upton, Christie Brinkley—who still looks fabulous at 60-years-old—Tyra Banks, and more—plus musical performances by artists from Enrique Iglesias, John Legend, to Tim McGraw. Be sure to tune in to NBC at 9 pm ET/PT tonight for all the fun. 

Want more Heidi? Took a look at all of her best looks ever!
MORE:
• Sports Illustrated's Designer Swim Deals
• See Heidi Klum's Transformation! 
• See Kate Upton All Dressed Up!