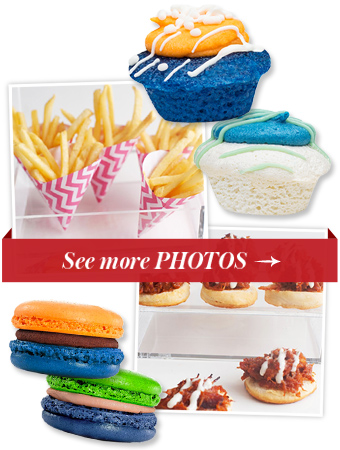 See All Photos
Courtesy Photo (4); 5ive15ifteen Photo Company (2)
Are you hosting a Super Bowl party this weekend? Think outside the pizza box. Abby Larson of Style Me Pretty suggests 3-bite sliders paired with salty fries, served in pretty chevron waxed paper.
Then, it's onto the sweet stuff! We rounded up some chic gametime-inspired desserts, from mini football cheesecakes to Dana's Bakery pastel macarons in team colors: Denver Chocolate Peanut Butter vs. Seattle Salted Caramel—yes please! So whether you're rooting for a team or you're really only interested in the halftime act, nosh in style. Click through the gallery to get started.
Now what to wear! Score a fashion touchdown with these Charlotte Olympia Super Bowl-ready accessories.
MORE:
• Show Your Team Spirit With These Football-Inspired Manis
• Fashion Touchdown: Check Out These Haute Couture Helmets
• Shop Clutches That Meet the NFL's Security Standards