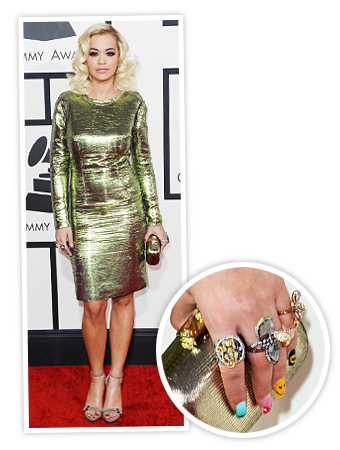 Jason Merritt/Getty Images (2)
Rita Ora and her hands were the center of attention on the red carpet at the 56th annual Grammy Awards. The singer accessorized her absinthe-green metallic Lanvin short dress—a bold move for Ora who tends to favor long gowns for awards shows—with a playful manicure that stretched across the colors of the rainbow and dazzled with fun art—including mustaches, smiley faces, Batman's logo, and more.
But Ora didn't stop there, she dressed up each of her digits with a mix of Lorraine Schwartz cocktail rings and a few of her personal ones for an added glam touch, making her digits the center of focus as she walked the carpet. The Grammys are known to bring out the riskiest red carpet looks and Ora's manicure is no exception. To see more wild Grammys manicures from over the years, take a peek inside our gallery.
MORE:
• What Everyone Wore At the 2014 Grammys
• See the 2014 Grammy Nominees
• Beyonce's Nails From Her "Drunk In Love" Video