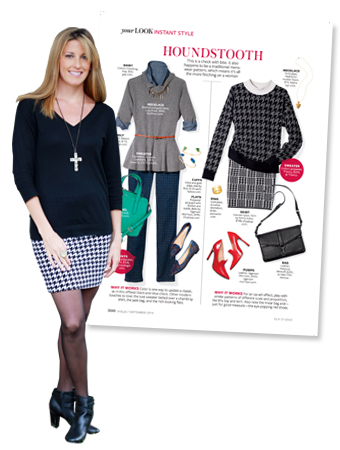 Courtesy Photo
Congratulations Megan Ballard, you're InStyle.com's Reader of the Week! Fashionista Mommy blogger Megan Ballard recreated our Houndstooth look from September's Instant Style, but did it for less! Ballard chose a sweater and some awesome, trendy ankle boots from Target and paired them with a black and white houndstooth skirt from Charlotte Russe (for only $5!). We're digging this look for less! Get inspired by more InStyle readers we ♥ in our gallery.

Check out Megan on her blog and look out for our other Inspired by InStyle looks in our Sarah Jessica Parker-covered Febraury issue or download it on your tablet.
Be our Reader of the Week! If one of our stories has inspired you to mix it up, send us a pic (300 dpi or larger) of your transformation to letters@instylemag.com or submit it through InStyle's Tumblr. You could be featured in InStyle and on InStyle.com!
Or, send us your Color Crash Course inspired looks to letters@instylemag.com and you could be featured in our Color issue!