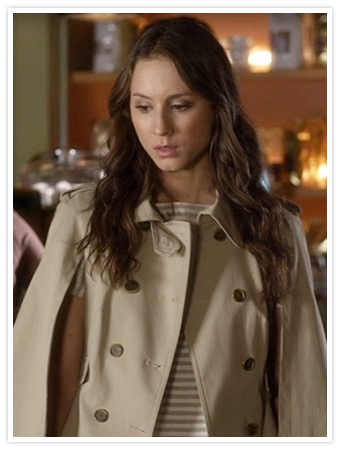 ABC Family
Dana Weiss of Possessionista.com is InStyle.com's correspondent on all things Pretty Little Liars  fashion for Season 4. Scroll down to read this week's exclusive update on what the ladies of Rosewood wore.
It's official: We have a major case of cape envy. First, Lupita Nyong'o won us over last week at the Golden Globes with her red Ralph Lauren caped gown.  And last night on Pretty Little Liars, Spencer Hastings (Troian Belissaro) took our obsession up a notch with a 70's inspired tailored cape by Karen Millen.
"No one can wear a cape like Spencer," Mandi Line, the show's costume designer, exclusively told InStyle.com, citing the first time she dressed the star in a cape—during the first season of Pretty Little Liars. "I'm obsessed with this cape because it's not costume-y," said Line. "It's a classic trench with a twist, more versatile and functional. It's still Spencer, but it's a worldlier Spencer."
Plus, get more Pretty Little Liars outfit info!
MORE:
• Shop Emily's Printed Tee
• Exclusive Details on Lucy Hale's Pastel Moto Jacket
• See Why Lucy Hale is "Wild" for Juicy Couture
—Dana Weiss of Possessionista.com