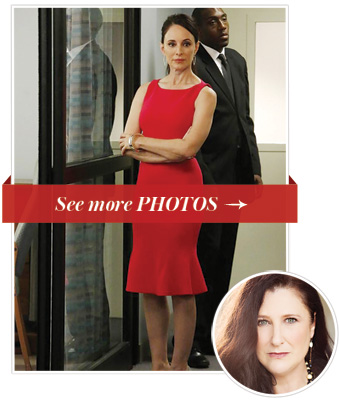 See All Photos
Courtesy Photo (2)
The 2014 Golden Globes wasn't the only show that had us on the edges of our seats! This week on Revenge, Emily continued to make progress as Aiden liaised with Niko, Takeda's daughter currently disguised as a nurse, to get Emily out of the hospital. Niko then works with Victoria to get a recovery room set up for her inside Grayson manor, where Victoria continues to quiz Emily on what she remembers from the night of her honeymoon. Hell-bent on pegging Lydia as the prime suspect in Emily's shooting, Daniel attempts to convince Margaux to name her as the culprit in the Voulez feature outlining his wedding, but after learning from Jack that the Grayson golden boy was the one who pulled the trigger, the article gets placed on hold. "There's a part of Daniel who wants to confess and get it over with, but the Grayson self-preservation kicks in," costume designer Jill Ohanneson told InStyle.com. "He has also seen his parents lie through their teeth for years, so it's almost second nature for him."
Meanwhile, Patrick reveals to Victoria that he knows the location Emily's infinity box, outlining her plot to take down the Grayson family, and that he's willing to manipulate Nolan to get to it. Niko overhears this and speaks to Emily, who is close to giving up her fight. Out of equal parts frustration with the plot and heartbreak of knowing Aiden proposed to Emily, Niko punches her in the stomach and tells her the pain she feels is because of the Graysons, not her, and Emily should continue with her plan. "Takeda had a very different view of revenge, what it meant, and how to deal with missions while everyone else is quick to forgive and forget," said Ohanneson. "He got how to plot these things out from start to finish, and he taught his daughter well." So well, in fact, that Niko reveals to Aiden that she's planning to take down whoever killed her father, not knowing he is the one behind it.
Patrick attempts to get Nolan drunk enough to let his guard down, allowing him to steal the infinity box, but after learning Nolan swapped his liquor for water, he knocks him unconscious and takes the box anyway. In addition to the news that Emily can no longer conceive as a result of the accident, Victoria reveals Emily's infinity box to her, not knowing Nolan had swapped it out beforehand in case Patrick would try to steal it. "That's why I think Emily and Nolan are so good together — they have a brother-sister relationship and they really have each other's backs," said Ohanneson. Emily goes along with the plan and feigns surprise, but it was the Grayson family who got the real surprise when Emily called an impromptu press conference at the mansion, where she stated that Lydia Davis had shot her. She had another trick up her sleeve, which became more-than evident when she sat down with the family after the conference to tell them she knows it was Daniel who shot her, and that she isn't going anywhere. The ball is in Emily's court, and we can't wait to see her next move. Each week, we catch up with Ohanneson to get all the details on what each character wore, and her thought process behind every outfit.
Click through to get all the wardrobe credits now!
MORE:
• Exclusive Details on Emily Thorne's Wedding Dress
• Revenge Season 3, Episode 11: What Everyone Wore
• Only on InStyle! Tour the Revenge Wardrobe