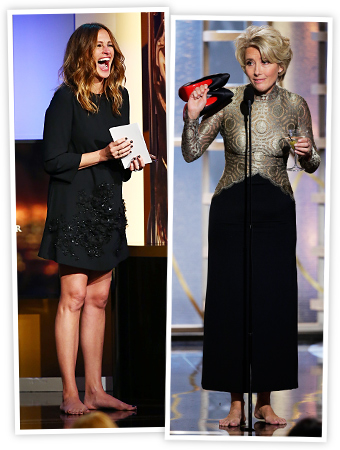 Joe Scarnici/WireImage; Paul Drinkwater/NBCUniversal via Getty Images
Awards season is all about putting your most fashionable foot forward, which for the feet of celebrities means heels and more heels. The stars go for all-out glam on the red carpet, with their towering shoes usually spending the rest of the night hidden under a floor-length dress—but only in rare cases do ladies opt out of wearing them. That's what has us curious about the growing trend of major stars shedding their heels.
Most recently, Emma Thompson presented an award barefoot onstage at the Golden Globes, which turned out to be one of our favorite moments of the night. The Saving Mr. Banks star hit the stage with her Christian Louboutin heels in hand (she even tossed them behind her back before she announced the winner), and we weren't surprised! Just last week at the National Board of Review Awards Gala, the Golden Globe-nominated Thompson told InStyle.com of her distaste for sky-high shoes. "Heels get more painful as you get older. I've got band aids on every single toe," the actress admitted.
Thompson isn't the only star to go all-or-nothing with onstage footwear, and to do it charmingly. In October at the Hollywood Film Awards, Julia Roberts went shoeless when she accepted the Supporting Actress Award for August: Osage County, and then went barefoot again at the BAFTA Britannia Awards in November while presenting an award to friend George Clooney. She, too, was snapped without her heels on while leaving the Golden Globes last night. Other stars, like Lena Dunham, Aubrey Plaza, and Taylor Swift have all gone barefoot onstage as well. Are these celebrities foretelling a new award show fashion movement? We'll have to wait and see.
Click through the gallery to see all the fashion from the Golden Globes!
MORE:
• Our 9 Favorite Moments from the Golden Globe Awards
• Eric Wilson's 10 Best Dressed at the 2014 Golden Globes!
• The 15 best Instagrams from the 2014 Golden Globes