"Few women are more effortlessly dazzling or more enjoyable to watch on the red carpet or at dressy charity events than Sarah Jessica Parker," Katie Couric writes in the February issue of InStyle, on newsstands now. (We think the same can be said of our inventive photo spread with the actress. Above is a sneak peek, where the star of stage and screen dons a Delpozo dress in front of artwork we commissioned.)
In the issue, longtime pal Couric paints a picture of Parker as a fashion beacon and motivated multi-tasker. (At the moment, she is acting, producing and chasing after three energetic — and adorable — kids.) So how does she keep it all together? "I'm sure there are days I'm not as gracious as I would hope to be," she says. "But I try. I want the people around me to feel good about being there and to feel valued and that they're being heard."
These days, there certainly is no shortage of people surrounding the 48-year-old. In addition to starring on Broadway in The Commons of Pensacola, Parker just launched her first-ever shoes and accessories line at Nordstrom, SJP, in which she partnered with the man behind the brand Carrie Bradshaw made famous: George Malkemus of Manolo Blahnik. While she admits she doesn't love shoes as much as her unforgettable Sex and the City character –"She would rather have shoes than furniture or food," Parker says. "I would always prefer a good meal, or travel" — the line is something she's wanted to do for a long time. After turning down an offer to design shoes with a big company, "I realized my real dream was a smaller line, my name, built in Europe, at a reasonable price point," she says. "Beautiful, simple shoes, the kind I remember from when I first came to New York — the Maud Frizons, the Charles Jourdans."
And speaking of Bradshaw, Couric asked Parker the question on the mind of every woman who ever ordered a cosmo: will we see Carrie again? "I don't know," Parker replied. "A part of me thinks there is one last chapter to tell. But timing is a peculiar thing. It isn't a decision that can wait forever. I don't want to have to wear muumuus!"
Although we bet if she did, she'd look great doing it.
For more of our February feature with Parker and Couric, pick up this month's InStyle, available on newsstands and for digital download now.

Plus, see Sarah Jessica Parker's beauty transformation.
MORE:
• 4 Reasons Why Katie Couric Loved Interviewing Sarah Jessica Parker
• Get Details on the SJP Shoes and Accessories Line
• Check Out SJP on Our Cover in 1995!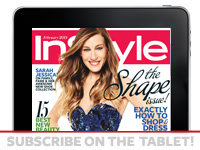 Download the new issue on your tablet: