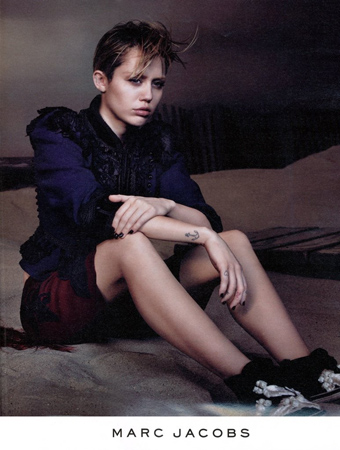 Courtesy of Marc Jacobs
Chalk it up to her edgy sartorial picks and punk rock pixie, but Miley Cyrus can't stop making a name for herself in the fashion and beauty realms, and now she's stepping up as the new face of Marc Jacobs! The star, clad in a navy jacket, and printed shorts on a post-apocalyptic beach scene, appeared in the moody campaign for Jacobs' spring/summer 2014 line, and we already think it's a match made in style heaven. Miley has been very vocal about her love of the label — she is constantly spotted in Jacobs' pieces, and even presented the designer and his business partner Robert Duffy with the Superstar Award at the FGI Night of Stars Gala. "It's important to find people that are not scared to believe in someone that's rebellious and someone that wants to continue to make a difference, and stand out and be different," Cyrus said in her speech. "It's amazing to be a part of and to watch. They have and will continue to inspire me." Keep an eye out for Miley's campaign, which makes its print debut in February. 
See Miley's best looks ever!
MORE:
• Miley Is the Top Hair Try-On of 2013!
• See Miley Cyrus' Transformation
• Photo of the Day: Marc Jacobs' Last LV Show