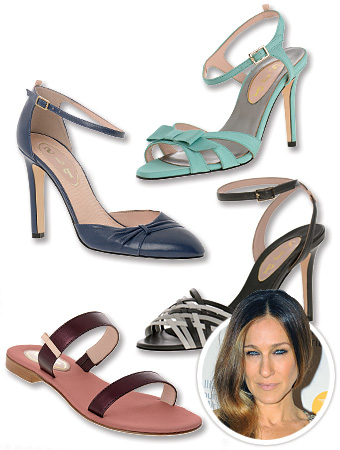 Paul Bruinooge/PatrickMcMullan.com/Sipa USA; Time Inc Photo Studio (4)
InStyle February cover girl Sarah Jessica Parker has just made our dream of dressing like Carrie Bradshaw a bit more attainable. With the debut of her highly anticipated SJP collection, which will include Italian-made shoes, handbags, and other wardrobe must-haves designed by the actress and style icon, there is so much to get excited about. The actress-turned-designer discussed her new collection with Katie Couric in our latest issue, and gave us an exclusive peek at the line. "They're sexy and feminine," Parker stated. Seemingly, earlier opportunities never felt right to the actress, but this collaboration with George Malkemus (President of Manolo Blahnik) was the perfect fit. "If I'm going to ask people for their hard-earned dollars, I'd better be making shoes I want to wear."
Parker has always loved shoes, which made this new project a natural fit for her, but she has never been addicted to shoes in the same manner as Carrie Bradshaw. "She would rather have shoes than furniture or food. I would always prefer a good meal, or travel," the actress voiced. The line seems to have something for everyone: lace-up booties, slip-on sandals, strappy heels with a bow appliqué, ballet flats and, of course, sexy t-strap pumps—appropriately named "The Carrie"—that we think Parker's Sex and the City character would have swooned over. "We tossed out the idea that neutral only means brown or black. Tweaking rules of, like, what's appropriate for the office. I mean, what—are you less capable if your shoe is the color of a berry?" Parker said of her color choices.
Our favorite part about the line? The SJP signature detail that let's everyone know you're wearing her shoes. "They all have grosgrain as a trim or accent. When I was little, I wore a grosgrain ribbon in my hair everyday," she said. Look for the SJP collection ($150-$400) starting February 28th at select Nordstrom stores and on nordstrom.com. 
Plus, click through the gallery to see Sarah Jessica Parker's best looks ever.
MORE:
• 4 Reasons Katie Couric Loved Interviewing SJP for InStyle
• The Secret to Sarah Jessica Parker's Svelte Physique
• Sarah Jessica Parker to Launch Fashion Line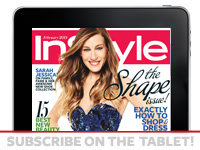 Download the new issue on your tablet: