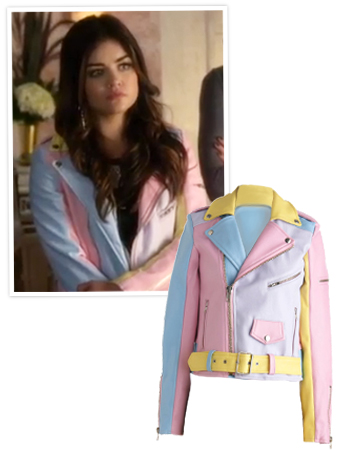 ABC Family, Courtesy
Dana Weiss of Possessionista.com is InStyle.com's correspondent on all things Pretty Little Liars  fashion for Season 4. Scroll down to read this week's exclusive update on what the ladies of Rosewood wore.
For last night's winter premiere of Pretty Little Liars, costume designer Mandi Line needed to make Aria (Lucy Hale) stand out, and she knew which piece would do just that. "I had this jacket for a few months," Line said of the pastel Unif motorcycle jacket. "It was too big for Lucy, and I knew it was going to be uncomfortable, so I knew it had to be a short scene."
Fit wasn't the only challenge the stylist faced. She and Hale experimented with many different accessories before settling on a simple graphic tee and jeans.  "We could have [paired it] with a flashy shirt, or a tulle skirt, but we knew we wanted this jacket to tell the story," Line added. "When it comes to a statement piece, you have to know when to say when."
Plus, get more Pretty Little Liars outfit info!
MORE:
• Shop Emily's Printed Tee
• Lucy Hale's Transformation
• See Why Lucy Hale is "Wild" for Juicy Couture
—Dana Weiss of Possessionista.com