Don't let the longer length fool you, this calf-grazing style is undoubtedly sexy. The key to nailing the look is all about the fit, so, you need to choose your midi style carefully.  "Ideally, the hem should hit where you leg starts to slim, slightly below the widest part of the calf," dished stylist Anita Patrickson in our January issue. Last but not least, to steer clear of looking dowdy: the longer the dress, the higher the heel should be. Ready to give the refreshing shape a go? Shop the gallery, embroidered silk lace and tweed styles await.
Click to shop our top 10 midi dresses.
MORE:
• Exclusive Peek at Britney Spears in January's InStyle
• See Rebecca Taylor's First-Ever Black Tie Dress Collection (and Get Her No-Fail Holiday Style Tips)
• And the Award for the Biggest Fashion Launch of 2013 Goes to…..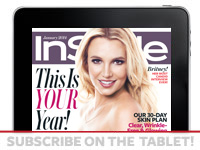 Download the new issue on your tablet: