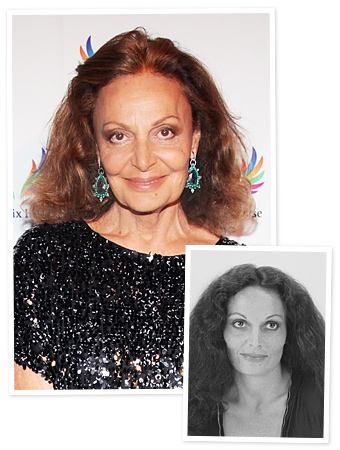 Rob Kim/Getty Images; Susan Wood/Getty Images
It's Diane von Furstenberg's 67th birthday today! The Belgian-born fashion designer has led a diverse and fascinating life. After studying economics at a university in Switzerland, Diane worked throughout Europe in photography and textiles. She married into royalty (she was wed to the late Prince Egon von Furstenberg of Germany in the '70s and '80s) and moved to New York City, where an industry legend was born. Diane started her career in women's clothing design in 1970 and she continues to wow us not only with new collections (including a line for GapKids and BabyGap that launched last April), but with her contributions to the industry and in philanthropic endeavors as well. She's president of the Council of Fashion Designers of America and has hosted the DVF Awards, honoring women "using their resources, commitment and visibility to transform the lives of other women," since 2010. 
The designer is also celebrating another big event to kick off the New Year–it's the 40th anniversary of her timeless wrap dress. To commemorate, a retrospective exhibit titled Journey of a Dress opens in Los Angeles at the Los Angeles Conservatory's May Company Wilshire on January 11th and runs through April 1st. 
It's hard not to be inspired by all of Diane's accomplishments and her philosophy for a confident woman, which she shared last May when she took over our Facebook: "She is a woman who wants to be effortlessly sexy. She knows herself. She is the woman she wants to be." 
Well said! Celebrate Diane's birthday (and the dress!) by browsing the many DVF outfits that have made a statement down the red carpet.
MORE:
• Top Trends That Made a Comeback
• Hairstyles That Defined an Era
• Learn to Perfect Layers: 5 Winter Looks