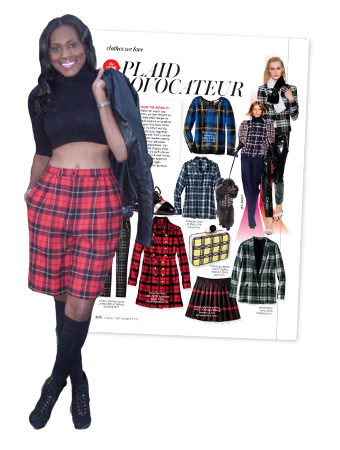 Courtesy Photo
Congratulations Jamiese Price, you're InStyle.com's Reader of the Week! The TV reporter and Ooh La La Blogger combined two of our favorite trends—plaid and crop tops to create one sizzling ensemble. Price told us, "After falling in love with the Plaid Provocateur section of September's 'Clothes We Love,' I'm now loading my closet with plaid pieces! I've truly been inspired by the modern take on tartan for this season."
For more ways to be inspired, grab our issue featuring Britney Spears or download it on your tablet.
Be our Reader of the Week! If one of our stories has inspired you to mix it up, send us a pic (300 dpi or larger) of your transformation to letters@instylemag.com or submit it through InStyle's Tumblr. You could be featured in InStyle and on InStyle.com!
Or, send us your Color Crash Course inspired looks to letters@instylemag.com and you could be featured in our Color issue!
Plus, see more readers we ♥ in the gallery.