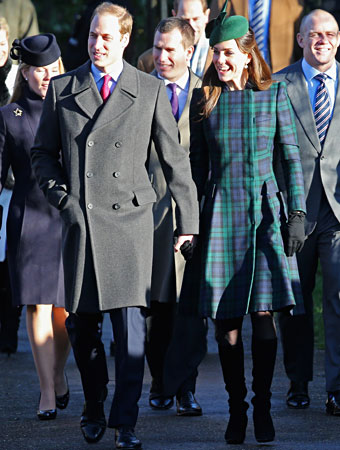 Chris Jackson/Getty
The Duchess of Cambridge and co. (minus Prince George) celebrated Christmas Wednesday at St. Mary Magdalene Church in Norfolk, England, and, as usual, Kate's outfit did not disappoint.
The princess put on an Alexander McQueen tartan coat for the occasion, the same one she wore back in 2012 to play field hockey (in high-heeled suede boots, no less!) at her alma mater St. Andrews. If you follow Kate's clothes closely, you know that this isn't the first time she's repeated an outfit — and certainly not the first time this year, having just recently re-worn a black lace Temperley London gown (for a third time!) at a screening in London. (Maybe she's been too busy buying Christmas gifts to shop for herself?)
Kate's replicates: all part of what makes the princess so down-to-earth and adored by the world!
Now, check out more of Kate Middleton's enviable ensembles.
MORE:
• Find the Most Flattering Coat for Your Shape
• Kate's Wedding Tiara on Display in Paris
• See One of Middleton's Head-to-Toe Outfit Repeats