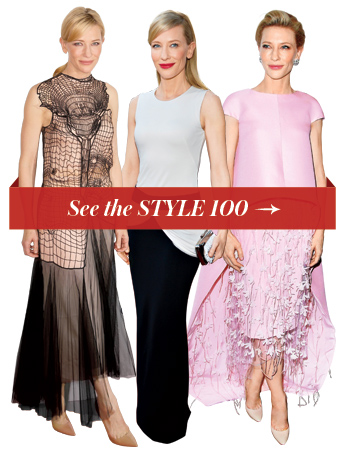 See All Photos
Maxppp/Landov; Frazer Harrison/Getty Images for AFI; Amanda Schwab/Startraksphoto.com
Awards season is rapidly approaching, and its shaping up to be another successful one for our fashion favorite Cate Blanchett. Yesterday, the 71st Annual Golden Globe Awards nominations were announced by The Hollywood Foreign Press Association, and the actress nabbed a nomination for Best Actress in a Motion Picture Drama for her role in Blue Jasmine—a Woody Allen film about Jasmine (Blanchett), a New York socialite, whose life is falling to pieces.
With two Golden Globes and one Academy Award already under her belt, Blanchett is no stranger to big-time Hollywood awards, but we love her even more because of her killer off-screen style. Her striking self-assurance has us bewitched, which is why Cate (Pictured, from left to right in Christopher Kane, Alexander McQueen and Balenciaga Edition) made it into our top 100 moments of 2013. We can't wait to see what she'll be rocking on the red carpet come 2014.
Browse through the gallery to see all the looks, trends, and pop culture moments that defined the year in our Style 100.
MORE:
• See Cate Blanchett's Best Looks Ever!
• All the 2014 Golden Globe Nominations
• Cate Blanchett Snags a 2014 SAG Awards Nomination