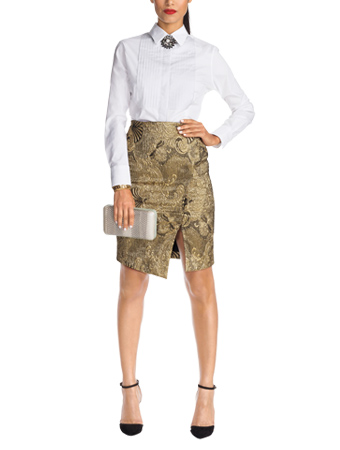 Courtesy
Our holiday gift to you: this tuxedo shirt, the newest addition to InStyle Essentials (a collection of button-fronts that use bra size for a better fit). Follow our dressing tips—guaranteed to spice up your new party-ready staple, no matter your style.
1. Take It Ornate
Slip on a slender gold brocade skirt and voila—instant glamour. Add sheer black tights and matching pumps for even more polish.
2. Try a Menswear Vibe
For swagger, pair it with black tuxedo pants and silver brogues. Drop earrings offer just the right sparkle.
3. Go Monochromatic
Layer it under a fuzzy white knit cardi with a slender ivory midi-skirt. Keep it all winter white with pearl accessories.
To buy: $70; shopinstyleessentials.com.
MORE:
• The Holiday Gift That Promises The Perfect Fit: InStyle Essential TrioPack
• InStyle Essential Shirts Are Here!
• Gift Guide 2013: Shop Our Holiday Favorites