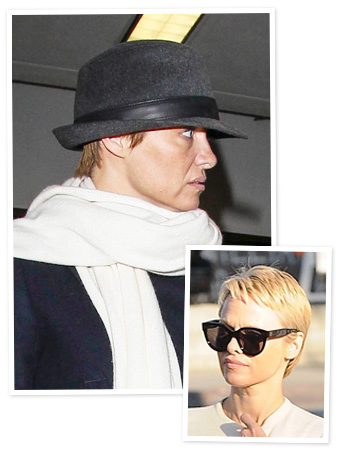 Ramey Photo, Splash News
Just when we thought Pamela Anderson's sleek pixie marked her biggest hair makeover this year, the star ditched her trademark blonde hue for a deeper brunette. Anderson was spotted at the Los Angeles airport with seemingly-darker strands, and although a hat was covering most of the style, we couldn't help but notice the chestnut shade peeking out from underneath. Ever since the start of her career, we've only known Anderson as a platinum blonde, which, along with her bombshell wardrobe and sexy smoky eye, quickly became her signature. Her switch to a darker tone definitely comes as a major change, and we can't wait to see the different — and surely gorgeous — ways she styles it.
See more celebrity hair makeovers.
MORE:
• Details On Getting a Pixie Cut Like Pamela's
• Pamela Anderson on Dancing With the Stars
• Try On a Pixie Cut — No Scissors Required