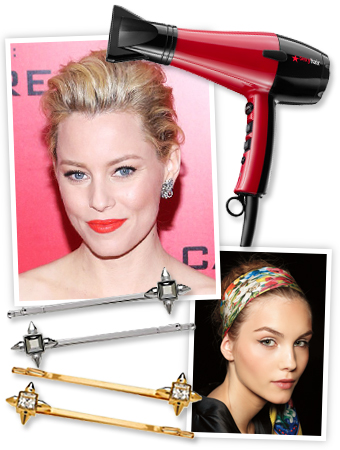 See All Photos
Barcroft Media /Landov; Imaxtree; Courtesy Photo (2)
Nothing finishes off a festive party dress quite like the perfect updo, but between the frenzied shopping and hectic travel plans, finding time to style your strands can be a tall order. That's why we compiled the best celebrity styles, user-friendly hair tools, sparkly accessories, and much more, to help you streamline your primping process!
Never have a bad hair day again with these five easy fixes to your strands' most-pressing issues, and for added flair, pick up an elegant hair accessory that veers from the gaudy butterfly clips of years past. In the mood for something more red carpet-worthy? We asked celebrity hairstylists to give us step-by-step instructions on recreating the most coveted looks — from Elizabeth Banks' chignon to loose, carefree waves — and even if you don't have a glam squad handy, you can try out one of these innovative hair tools to ease the process.
Click the box below to take a look at the holiday styles, hair tools, and tips to incorporate into your beauty routine!
MORE:
• See Yourself in Elizabeth Banks' Hairstyles!
• Jessica Alba Is Now Solid Blonde
• How to Upgrade Your Classic Side Part