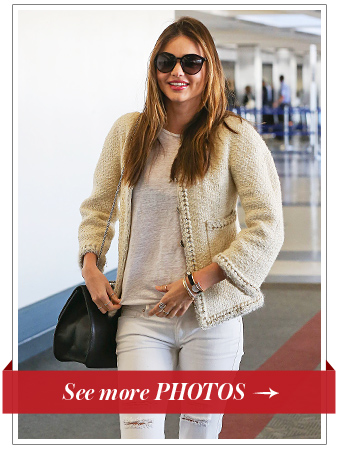 See All Photos
BJJ/FameFlynet Pictures
Below is an excerpt from "Give Your Weekend Outfit the Miranda Kerr Treatment," which originally appeared on POPSUGAR. Read the full story at popsugar.com.
We don't subscribe to a uniform on weekends. That said, we'd live in this Miranda Kerr look every Saturday and Sunday (and beyond!) if we could. The supermodel makes looking chic entirely effortless—we think it has something to do with those distressed jeans and cropped bouclé jacket.
And, because we fully intend to ditch our heels this weekend, we're big fans of her statement-making leopard-print slippers—can you blame us? Get one step closer to Miranda Kerr's cool off-duty look when you shop our editors' picks right here.
MORE ON POPSUGAR:
• Miranda Kerr's Best Style Moment
• Turn Your Down Vest Into This Cute Outfit!
• 3 Ways to Wear Your Moto Jacket