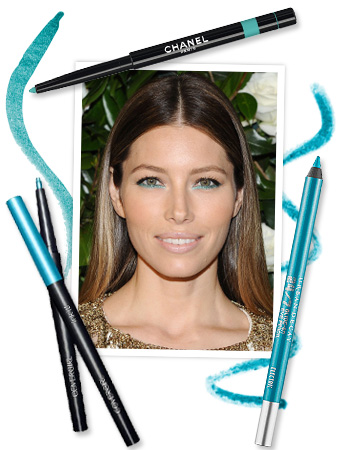 Gary Gershoff/WireImage, Courtesy (5)
If you need further evidence that rules were meant to be broken, look to Jessica Biel, who brought summery turquoise eyeliner right into the fall season last night at the Museum of Modern Art's tribute to Tilda Swinton in New York City. To create her look, Biel's makeup artist Kara Yoshimoto Bua used Chanel's Waterproof Liner in Jade ($30; chanel.com) along her bottom lashes. "We were inspired by Jessica's dress from the Chanel 2014 runway, and wanted to create the look of a simplified, modern Egyptian Nefertiti," Bua said. "I blended the liner below the lash line, outward to a point, and inside the inner waterline." On a budget? We also love Urban Decay's 24-7 Glide-On Eye Pencil in Electric ($19; sephora.com) and CoverGirl's version in Aquamarine Ink ($7; drugstore.com), which both create similar effects. Follow Biel's lead by keeping the rest of your makeup minimal, with slight definition on your top lid, and finish with a tawny nude lip. Since blue and green tones make such a big impact, playing with too many colors at once can create an overdone effect.
See more must-try Fall makeup looks.
MORE:
• Jessica and Her Brother Launch Accessories
• Jessica Biel at the Saks Fifth Avenue Dior Party
• Try on Jessica Biel's Many Pretty Hairstyles