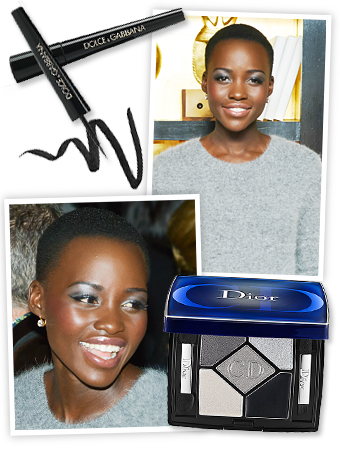 Courtesy Photo (2); Time Inc. Digital Studio; Sipa USA (2)
Lupita Nyong'O continues to be one of our rising style icons — check out her glamorous red carpet ensembles if you need further proof — and the steely silver eye makeup she wore to an event in New York City is her latest look we'll be trying out this week. "We were kind of inspired by Diana Ross in the Supremes," said her makeup artist Nick Barose. "I also kept the lips pale, so the whole look has a slight '60s, futuristic feel." Barose used the pale grey shadow from Dior's 5-Color Designer Palette in Smoky Design ($60; dior.com) all over, then added slight definition along the crease. "Grey is a perfect neutral that looks dramatic, but not too out-there," he told us. "There are more than 50 shades of grey, and you can go either light or dark. Since it's a blend of black and white, it looks great against all skin tones." The finishing touch came with a winged-out sweep of Dolce & Gabbana's Glam Liner in black ($34; sephora.com). "Elongated liner is a great way to add drama to the eyes," he added.
See more must-try makeup looks for Fall.
MORE:
• Lupita Nyong'O Honored at the Hollywood Film Festival
• Lupita's Smoky Violet Shadow and Orchid Lipstick
• See Lupita's Best Red Carpet Looks