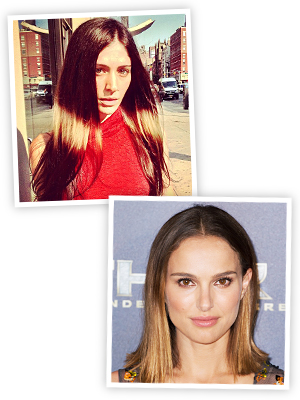 Instagram/auracolorist; People Avenue/Corbis
The color-change is subtle, but it's there! At the Paris premiere of Thor: The Dark World, Natalie Portman hit the red carpet in shorter strands with a light ombre effect for a more low-key take on the caramel highlights she has worn throughout the year. But the ombre trend may have some competition! Recently, colorist Aura Friedman at the Sally Hershberger Salon in New York City unveiled a new highlighting method meant to give off a halo effect, with a horziontal strip of blonde spanning from each ear. Dubbed Splashlights, the look is created by adding bleach to a small section of your mid-lengths, and mimics the appearance of a laser beam hitting your strands. The root area is left dark, and the ends are lightened for a natural feel. Caroline Polachek of indie band Chairlift was one of the first to try out the trend, and now we want to know: Would you rather get ombre highlights, or halo-esque Splashlights? Vote in our poll below to tell us!
Plus, see more celebrity hair makeovers.
MORE:
• Try On Natalie Portman's Pretty Hairstyles
• Natalie at the NYC Ballet Fall Gala
• Go Behind-the-Scenes at Natalie's Dior Beauty Campaign