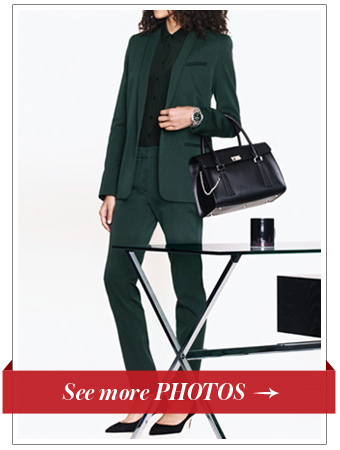 See All Photos
Nick Heavican
If you work in finance, law, and government, chances are you're aiming to convey authority and trust, so you don't want your clothing to reveal too much skin or become the center of attention. And while suiting may be standard issue for your company, it doesn't mean you have to be rigid when selecting your daily ensemble. After all, as Sharyn Soleimani, a personal shopper for Barneys New York, points out, "Years ago they didn't even let corporate women wear pants."
Most offices have loosened the rules to include not only trousers but also silky blouses, knit tops, and jackets that can be paired with pencil skirts or dresses. "Don't worry if bright hues are discouraged at your job," says designer Rebecca Minkoff. "You can still express yourself by embracing fantastic neutral prints and colorful accents."
Here's How to Avoid Outfit Ennui
Even in the most conservative offices, there are ways to liven up your look. Use these dos and don'ts to define the boundaries.
DO Experiment with accessories, such as scarves and subdued jewelry. Lubov Azria, chief creative officer of BCBG Max Azria Group, is a fan of waist-cinching belts. "I'm obsessed with white belts right now," she says. "They look chic over a gray, black, or blue shift dress."
DON'T Wear wild prints, neon colors, or crazy hosiery—this isn't the place to have fun with fishnets!
Bowl 'em over in the boardroom with these stylish, tailored pieces in understated hues.
MORE:
• Find Your Perfect Pencil Skirt
• Katy Perry's Stylist on How to Make Your Work Outfits Pop
• How To Look Sleek and Chic in Fall's Quilted Trend